Daily habits are the best way to make change happen and by doing something every day, it becomes a habit. Eating Mindfully is meant as an introductory overview and is not a full-length book. (3,669 words).
Eating Mindfully eBook
Your Key to Healthy Living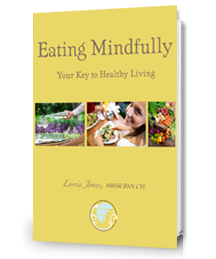 Our culture has indoctrinated most of us, particularly women, to believe media-defined thinness and beauty will bring happiness, bliss and self-love. Unfortunately, this is not true.
Having gained and lost over 1,900 pounds during a decade of my life, I know the emotional pain of feeling physically unacceptable and how debilitating it can be. Eating emotionally can become a way of life and compulsive behavior can become an attempt to manage feelings only to have the compulsions manage us in the end. When a pattern of compulsive overeating, emotional eating, under eating or rigid dieting or control is established, we often believe the "problem" is about the struggle: the endless loyalty and dedication we create pushing ourselves to be better, thinner—different from who we are. While we may have succeeded in changing certain behaviors—perhaps even losing some weight—we have failed to understand and experience the deep level of change necessary for healing, growth and lifetime health.
The journey of healing from unhealthy eating habits starts where you are. Any change, large or small, begins with self awareness and clear intention. If you are willing to take a little time each day to become mindfully in touch with yourself, to delve, discover and transform out-dated ways of thinking and behaving into a more compassionate and truthful way of navigating life, and to leave behind all that is familiar and comfortable, making way for fresh, new and vibrant living—then I invite you to read Eating Mindfully: Your Key to Healthy Living—and start honoring yourself today by embracing true and lasting change that comes from self acceptance, compassion and purpose, not discipline or dieting!