"Lorrie Jones is a Mastery Level Mindfulness Teacher who has stepped out onto the leading edge of the growing mindfulness movement by combining Healthy Eating Practices with Mindfulness Practices! Her originality and brilliance combine in a potent, simple presentation, which is easily accessible by anyone whether experienced in mindfulness or a novice. This book will assist those folks who are interested in healthy relationships with food, and those who are seeking better, more wholistic living and saner lives. Lorrie has walked her talk and shares that walk, her journey, candidly and with love and compassion, for any seeker of a life of wellness, health, ease, effortlessness, and Simple Serenity. Let Lorrie Jones be Your Guide to a Healthy Relationship with Yourself and Food through Eating Mindfully - she is leading this segment of the current mindfulness revolution! And you can trust her...she knows her stuff!"
—Shelley G.
Books by Lorrie Jones, MBSR BSN NLP CYI
Designed to support you on your journey towards living a mindful life, find Lorrie's books on Amazon.com
21 DAYS OF EATING MINDFULLY
Your Guide to a Healthy Relationship with Yourself and Food
Following two decades of research and practical experience, disordered eating expert Lorrie Jones developed the 21 Days of Eating Mindfully program, designed to encourage and support you in changing unwanted and unhealthy eating habits by transforming your relationship with yourself. For 21 days you will be provided with mindful eating guidelines to put into practice in your daily life. Read an excerpt.

FIT FROM WITHIN
The Art and Science of Weight Loss
Fit From Within weaves art with science, teaching you how to integrate the practice of mindfulness into eating, exercising and all parts of your life—providing the keys to establishing a healthy, loving relationship with yourself and enjoying a favorable weight shift and wise eating choices as a natural result and a sustainable outcome.

EATING MINDFULLY
Your Key to Healthy Living
The journey of healing from unhealthy eating habits starts where you are. If you are willing to take a little time each day to become mindfully in touch with yourself—then I invite you to start honoring yourself today by embracing true and lasting change that comes from self acceptance, compassion and purpose, not discipline or dieting!
If you're on Facebook, you're invited to join our supportive community. Let's do this together!
---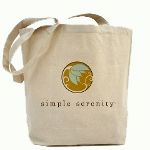 Please visit the Simple Serenity Online Store for hand-selected items featuring the beautiful Simple Serenity logo. The lotus symbolizes the beauty that blooms and flourishes within each of us, blessing the world in each of our own ways. The three dots represent simplicity, serenity and beauty...faith, hope and love... compassion, forgiveness and peace...