This post is part of the Empowering the Goddess Within Blog Tour hosted by BraveHealer.com! To read more entries and potentially win a fun prize, visit the tour page HERE, between September 9th and September 19th!
---
They say that when an untrusting horse, after much despair and distress, finally feels safe with a human being, the moment is called "joining up". As I completed research for my guidebook on living mindfully, I studied this process. To gain the trust of a frightened animal is an event that requires great skill, compassion, and patience on the part of the human being and great acceptance and trust on the part of the horse. The more I have learned, the more often an encounter at a store called Bloom comes to my mind.
The owners of Bloom are Mark Crowley and Maria Miskoski. The staff at their lovely boutique call Mark the "Jean Whisperer". Many Bloom patrons understand why and how he has earned this title. For me, it took an experience of choosing a pair of jeans to realize why Mark is called "The Jean Whisperer." Being a woman "of a certain age" and a woman "of a certain weight and body structure", I ventured into Bloom one evening to try on jeans, hoping to find a pair I liked…no, loved. I was full of hope and energy. Eagerly, I entered the store and Mark was there. He greeted me warmly and offered to assist me. As kind as he was, I recall wondering just how much help a man could be to an older woman on a mission to find a flattering pair of jeans. I was to soon learn how wrong my doubts were.
The store was immaculate, with an entire wall of blue jeans in various shapes, sizes, and styles. Mark listened closely to what I wanted: basically, a pair of jeans that I loved and that loved me. I had no idea what was in store for me. I watched him carefully select several different options and, with a warm smile, ushered me toward a dressing room. In no time, I was immersed in the process of trying on pair after pair of jeans, and to my horror, none of them fit…properly. In other words, not one pair of the jeans selected looked anywhere near "good" on me.
As tempted as I was to bolt out of the store in despair, I stuck it out. I told Mark none of them fit in a way that I liked. He very kindly took all of the jeans from me and we started over. Maybe a "boyfriend" style was what I would be most comfortable in…or perhaps a "boot cut" for the colder weather ahead. To my surprise, he seemed neither burdened by my situation nor impatient. By now, I was the only shopper in the store and I felt as if Mark had all of the time in the world for me. He was reassuring, kind and compassionate. In fact, he seemed to actually like what he was doing: saving my soul as I began to feel inadequate, overweight and, well…old. Mark was not to be discouraged. He brought in a fresh supply of different cuts and sizes and we began again.
Evening was coming on and as I struggled in the dressing room, I began to feel hungry and tired. As I imagined myself being a huge inconvenience, I heard Mark's cheerful voice outside the dressing room door, "I found another pair that I think you might really like." As I tried on this final pair of jeans and found the courage to walk out of the dressing room for his opinion, I realized what a risk I was taking. What if he thinks I'm a "senior client" who is, to use a slang term, over the hill? What if he resents me taking up all of this time to find just one simple pair of jeans? What if I'm unacceptable as I am? Have any of you been here? Have you ever felt despair and disgust as your body was bathed in the bright light of a dressing room and reality paraded in front of you? Have you ever wanted to drop through the floor rather than step outside and ask a person for an opinion? And a man at that!
As I stood there in the final pair of jeans, Mark smiled and said: "I think we found the right pair for you!" He seemed genuinely happy for me and went on to suggest an alteration on the length. Would I be wearing them with boots or more of a sandal shoe? Would two or three days be acceptable for alteration time? I realized in a moment that all of my imaginations of inadequacy were unfounded and that I had been blessed by the attendance of a kind and gentle man who truly cared about me and my quest for the perfect pair of jeans. Though I can't explain why, I can tell you that I knew this experience was about service, not sales. As Mark pinned the length for alterations, we chatted and he told me how good he feels when a person comes into his store and finds something to wear that they love. We talked of community involvement and of the young employees who have remained with him for an amazing length of time. "We're like a family," he said.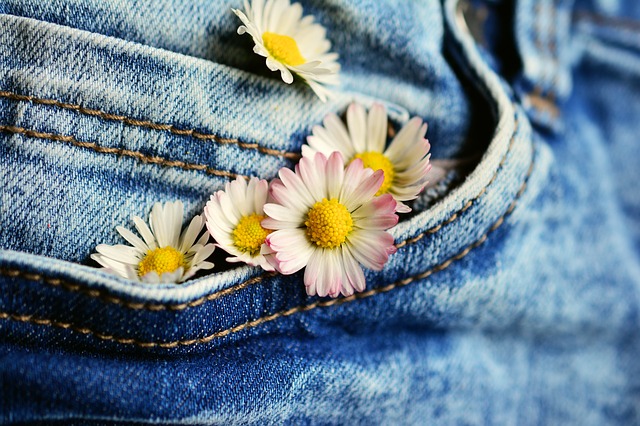 As I exited the store and headed for a bite of dinner, I felt happy and cared for. Maybe I am enough as I am and maybe I can trust that in my life. As I strolled toward the restaurant, I realized my perspective had changed. People looked more friendly than I remembered before coming into Bloom that evening. I felt safe and trusting. Then I realized: this person, this "Jean Whisperer", had earned my trust and offered me acceptance. He had been patient, kind and honest. As a result, I left with much more than success at finding a pair of jeans. I had made a friend and changed the way I looked at myself and at others. I felt fortunate and blessed.
I have been back to Bloom many times since purchasing my original pair of jeans. I have met Mark's lovely wife, Maria, and become fast friends with the two young women who work for Mark and Maria. Each time I visit Bloom, I am convinced: this team, led by the Jean Whisperer, is changing the self-worth of women one pair of jeans at a time.
I cannot recommend this lovely store highly enough. If you want a good dose of acceptance and compassionate assistance (and need a great pair of jeans), visit Bloom in Gig Harbor, WA.
SaveSave
SaveSave
SaveSave
SaveSave