Simple Serenity Products
"Out of clutter, find simplicity. From discord, find harmony. In the midst of difficulty lies opportunity."
~Albert Einstien
These products are designed to support you on your journey towards living a mindful life.
21 DAYS OF EATING MINDFULLY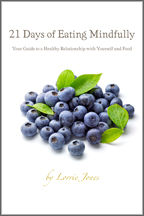 Your Guide to a Healthy Relationship with Yourself and Food. 21 Days is an interactive guidebook created to encourage and support women to change unwanted and unhealthy eating habits by transforming their relationships with themselves. Includes exclusive access to 21 days of PDF handouts, videos and audio files. Read an excerpt here.
See all of Lorrie's books on Amazon

If you're on Facebook, you're invited to join our supportive community. Let's do this together!
---
MINDFULNESS MEDITATIONS

The following CDs introduce you to the practice of mindfulness meditation, offering simple yet effective tools for embracing life with a peaceful, compassionate heart for the challenges you face.
CDs are $9.99 each plus S/H or buy 3 for $29.97 + S/H and get the 4th CD free - YOU SAVE $9.99! Purchase online or with this handy mail-in order form. Each CD is also available as a downloadable MP3.

GUIDED BODY SCAN MEDITATION
35-minute guided meditation designed to help you enter and dwell in a state of stillness and calm, cultivating mindful awareness of sensations in the body and the breath.

GUIDED YOGA 1 SEQUENCE
40 minutes of gentle Hatha yoga designed to help you bring awareness to movement, and cultivate acceptance, strength and flexibility.

GUIDED SITTING MEDITATION
A 30-minute meditation to assist you in cultivating non-judgmental awareness. You will attend, mindfully, to your breath, body, sounds, thoughts and feelings.

GUIDED STANDING YOGA SEQUENCE
36 minutes of gentle Hatha Yoga standing poses to assist you in linking movement with the breath and cultivate acceptance, strength and flexibility.
---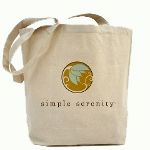 Please visit the Simple Serenity Online Store for hand-selected items featuring the beautiful Simple Serenity logo. The lotus symbolizes the beauty that blooms and flourishes within each of us, blessing the world in each of our own ways. The three dots represent simplicity, serenity and beauty...faith, hope and love... compassion, forgiveness and peace...